Tips to Choose Right Barcode Label Printer Part I
Some Facts
Selecting the right barcode label printer requires more than understanding basic printing requirements; it necessitates understanding the entire printing and labelling environment.
Labelling environment is considered from data source; the life cycle of the label, print volume, and print speed are those to be immediately contemplated.
Explore through Right Questions
Asking the straight questions, selecting the right printer can be a straight forward task.
• Printer size – mobile, desktop or industrial
• Print width – 4 or 6 or 8 inches width
• Print Length – It matters when a chunk of high volume data or content over a large length of the labels are to be printed
• Durability – Light Duty or Medium Duty or Heavy Duty operations
• Connectivity – USB or Serial RS232 Protocol or Ethernet (LAN) or Bluetooth or Wi-Fi or a combination of such connectivity ports
• Performance – Consistent quality of print at a required speed, repeatedly.
• Printing Speed (Inches Per Second) – 5 IPS to 14 IPS
• Label Life – Direct thermal or Thermal transfer
• Printer resolution (how sharp the text is) – 203 dpi; 300dpi; 600dpi
• RFID Module – RFID data fetching with simultaneously printing of barcode
• The need as how it will be put into use.
Location Choice
Look at where the label is to be printed and by whom. Will it be printed by a person in a production line, or through PLC integration to print labels after certain event is completed, or in a warehouse?
What kind of Printer Size should be thought – Mobile, Desktop or Industrial?
Mobile or Portable Label Printer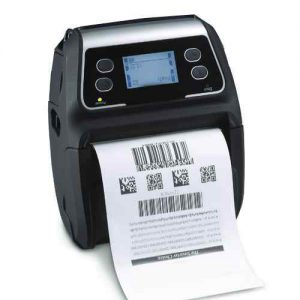 Mobile Printers are portable and direct thermal printing technology. They are perfect for printing labels in the field, and you stand next to where label to be printed and used.
Click here to know about mobile Mobile Barcode Label Printers
Desktop Label Printer
Desk top printers have plastic enclosures and are economical for low-to-medium throughput with smaller label size. It suits well for label printing in;
• Line Production – Compliance Labels
• Laboratory – Traceability Labels
• Logistics – Shipping labels
• Asset Tracking – Inventory
• Retail – Super Market – Shelf-Labels, Price Mark-up Labels,
• Textiles and Apparel – Price Tags, Price Labels
• Reception Area or Material Dispatch Area in offices – Address Labels, GRN Labels
Industrial Label Printer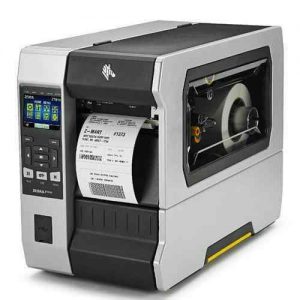 Industrial printers have metal enclosures and are built for;
• Higher printing speeds -14 ips (Inches Per Second)
• Print for longer duration (such as two working shifts, non-stop)
• Have more inner space to accommodate large label roll and ribbon roll, eliminating the need to change frequently.
There are also heavy duty industrial printers available that runs for 365 days, non-stop.
These insights and consideration of all key requirements would help the user to choose the right label-printer to fit the task at hand and avoid common mistakes.